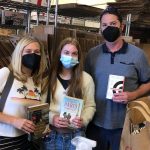 On September 29, Mia Johnson, center, and her parents Jodi and Mike, delivered bags of donated books to the Napa Library – Friends of the Napa Library sorting center. The books in turn will be sold by the Friends as part of our book sales that benefit the Napa County Library. Mia contacted us as we were the closest Friends of the Library group that could turn her donated books into cash for the literacy programs.
Mia said this is her first delivery as she continues to gather books from family, friends, neighbors and fellow students to fulfill her Service Learning Credit.
A student at Buckingham Charter School in Vacaville and a resident of Fairfield, Mia plans to attend Solano Community College and is currently considering her future academic path. Mia's mother, Jodi, hopes she pursues something that showcases her excellent writing skills. An avid reader, Mia enjoys historical fiction and mysteries. She used the recent COVID pandemic remote studies to indulge her love of books and to read over 50 while studying at home.
THANK YOU MIA FOR YOUR HARD WORK AND GENEROUS DONATION!
---