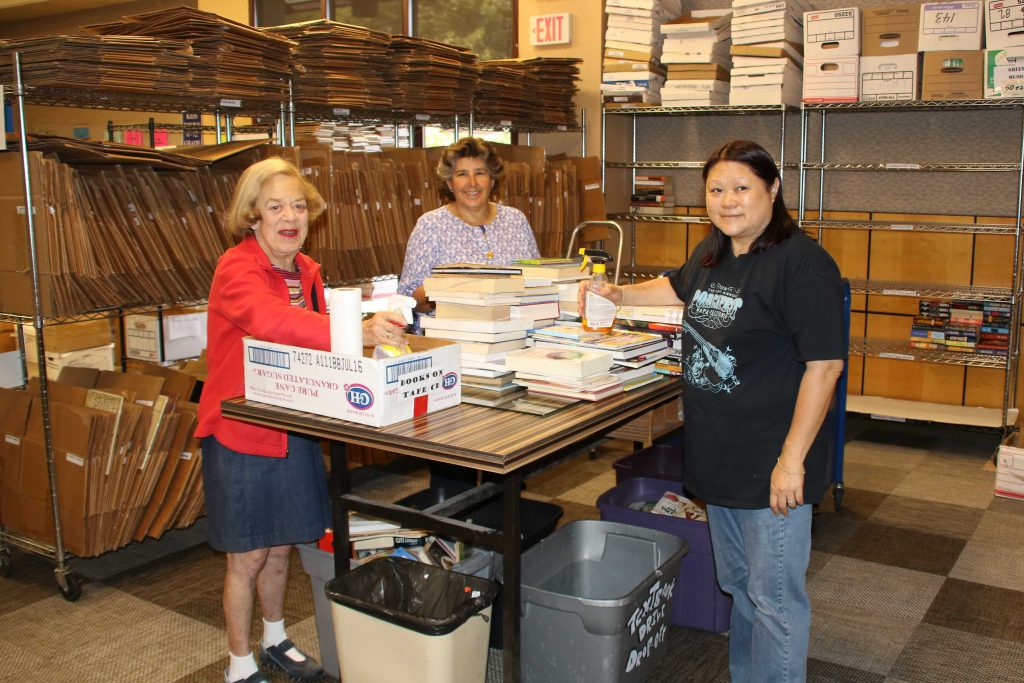 It takes many people make the Friends of the Library successful in its mission of providing programs and funds to the Napa County Library.  If you are interested in volunteering, there are many ways you can help out.  Positions may require the ability to lift boxes of books while other only require you to re-arrange books on a shelf or staff the sale check out desk. Contact the Book Sale Manager for information.  If you find an opportunity that is right for you, you will receive the applicable training.  Currently, there are volunteering opportunities in the following areas:
Book Sales: Before each sale we need people to stock the shelves and prepare the Community Room for the sale. During the sale we need volunteers to re-stock the shelves, straighten out books and move books from storage to the sale.  Also during the sales we need volunteers to check out patron's purchases by accepting cash or credit cards.  Shifts are normally 2 -3 hours and usually you will be asked to only work 2 -3 shifts per sale.  There are usually at least two volunteers working at the same time.
Sorting/Cleaning/Organizing Donations: Volunteers are also needed in our sorting room where book donations are processed.  Shifts are usually one day a week and are for 2 hours.  You are asked to make a commitment of one day each week for those two hours. For example, 3pm – 5pm every Tuesday.  There are normally 2 -3 volunteers per shift.
Volunteering with the Friends of the Library is a fun way to help the library meet its commitments to the Napa community.
---
BOOKS WE LOVE – Recommended Reading List
Here is our first installment of books that we think you too will love! This installment will focus on the classics.
The Age of Innocence by Edith Wharton               Beloved by Toni Morrison
House Made of Dawn by N. Scott Momaday       Shane by Jack Schaefer
Monte Walsh by Jack Schaefer                                Catcher in the Rye by J.D. Salinger
The March by W.S. Kunicak                                     Some Came Running by James Jones
The Naked and the Dead by Norman Mailer        All Quiet on the Western Front by Erich Maria Remarque
One Thousand White Women by Jim Fergus       Gone with the Wind by Margaret Mitchell
The Good Earth by Pearl Buck                                 The Sound and the Fury by William Faulkner
Recommended Authors
Any book by Alan Furst or Elizabeth George or Peter Robinson
Any George Mac Donald Fraser book that features Flashman
Any Charles Todd crime stories set the 1930's England
Next Installment – 50 books set in each of our 50 states!