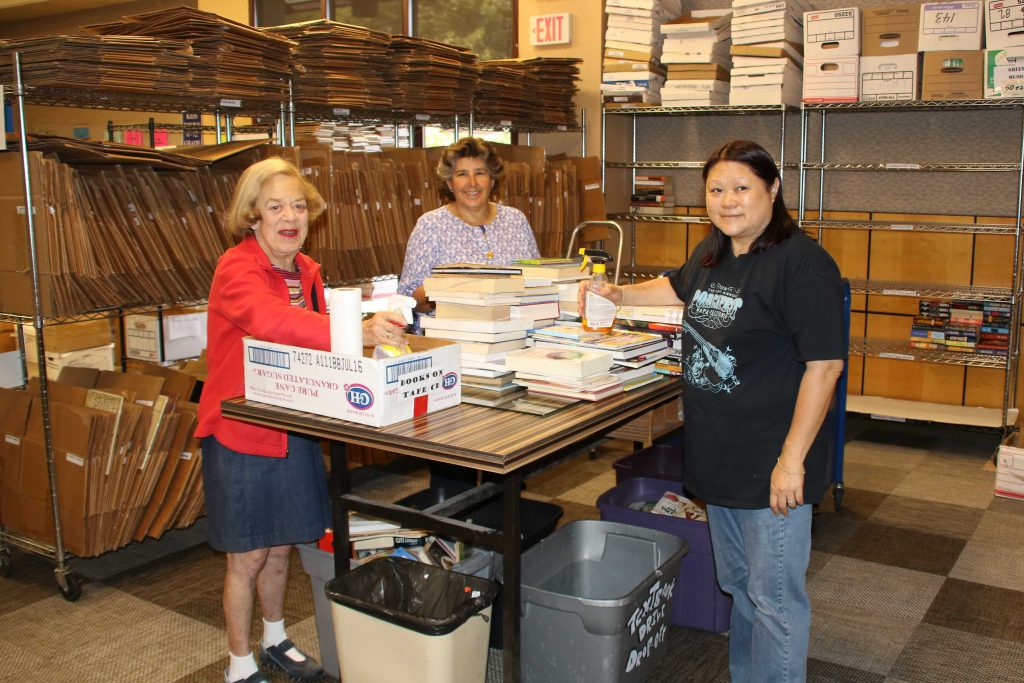 It takes many people make the Friends of the Library successful in its mission of providing programs and funds to the Napa County Library.  If you are interested in volunteering, there are many ways you can help out.  Positions may require the ability to lift boxes of books while other only require you to re-arrange books on a shelf or staff the sale check out desk. Contact the Book Sale Manager for information.  If you find an opportunity that is right for you, you will receive the applicable training.  Currently, there are volunteering opportunities in the following areas:
Book Sales: Before each sale we need people to stock the shelves and prepare the Community Room for the sale. During the sale we need volunteers to re-stock the shelves, straighten out books and move books from storage to the sale.  Also during the sales we need volunteers to check out patron's purchases by accepting cash or credit cards.  Shifts are normally 2 -3 hours and usually you will be asked to only work 2 -3 shifts per sale.  There are usually at least two volunteers working at the same time.
Sorting/Cleaning/Organizing Donations: Volunteers are also needed in our sorting room where book donations are processed.  Shifts are usually one day a week and are for 2 hours.  You are asked to make a commitment of one day each week for those two hours. For example, 3pm – 5pm every Tuesday.  There are normally 2 -3 volunteers per shift.
Volunteering with the Friends of the Library is a fun way to help the library meet its commitments to the Napa community.
---
BOOKS WE LOVE – Recommended Reading List
Here is our next installment of books that we think you too will love! We ask our volunteers to make recommendations. Book clubs…avid readers….please email your list to us and we'll post it here.
War & Peace by Leo Tolstoy                                             A Gentleman in Moscow by Amon Towles
Anna Karenina by Leo Tolstoy                                        Rules of Civility by Amon Towles
The Goldfinch by Donna Tartt                                         All the Light We Cannot See by Anthony Doerr
The Underground Railroad by Colson Whitehead      The Sympathizer by Viet Thanh Nguyen
Everything I Never Told You by Celeste Ng                  Hillbilly Elegy by JD Vance
Olive Kitteridge by Elizabeth Stout                                  A Tale for the Time Being by Ruth Ozeki
The Fifties by David Halberstam                                     Middlesex  by Jefffrey Eugenides
Recommended Authors
Any book by Bill Bryson
Any  book by Alan Furst
Any book by Diana Gabaldon
Send us your lists…favorite childrens stories…favorite young teen series…favorite biographies….whatever gets your reading juices going.  Make sure you give us your name so we can give you or your book club credit for the suggestions.