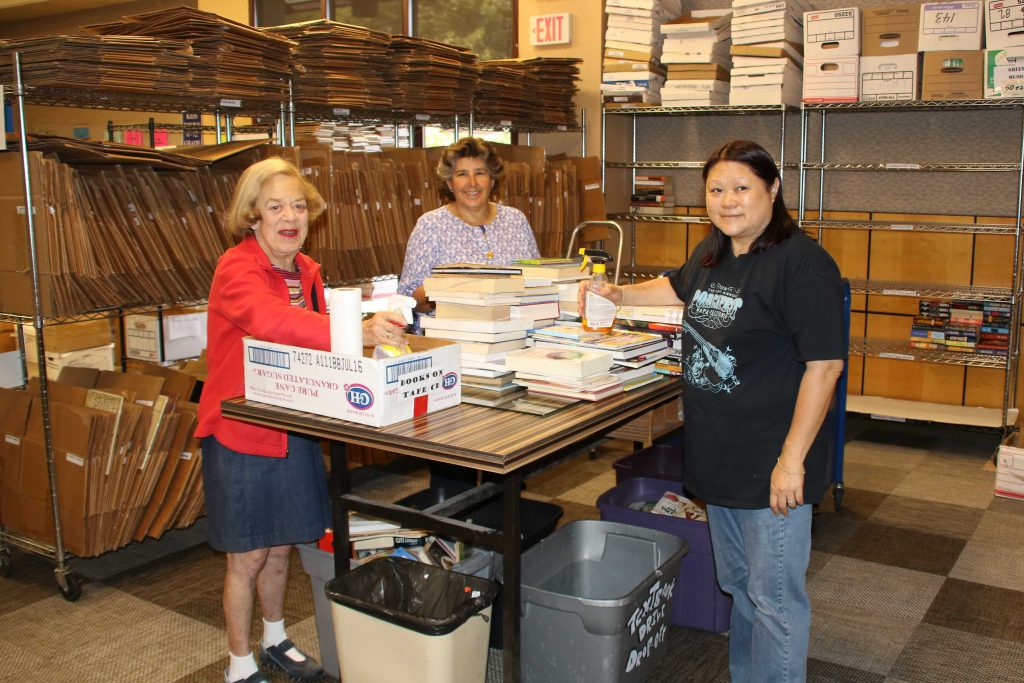 It takes many people make the Friends of the Library successful in its mission of providing programs and funds to the Napa County Library.  If you are interested in volunteering, there are many ways you can help out.  Positions may require the ability to lift boxes of books while other only require you to re-arrange books on a shelf or staff the sale check out desk. Contact the Book Sale Manager for information.  If you find an opportunity that is right for you, you will receive the applicable training.  Currently, there are volunteering opportunities in the following areas:
Book Sales: Before each sale we need people to stock the shelves and prepare the Community Room for the sale. During the sale we need volunteers to re-stock the shelves, straighten out books and move books from storage to the sale.  Also during the sales we need volunteers to check out patron's purchases by accepting cash or credit cards.  Shifts are normally 2 -3 hours and usually you will be asked to only work 2 -3 shifts per sale.  There are usually at least two volunteers working at the same time.
Sorting/Cleaning/Organizing Donations: Volunteers are also needed in our sorting room where book donations are processed.  Shifts are usually one day a week and are for 2 hours.  You are asked to make a commitment of one day each week for those two hours. For example, 3pm – 5pm every Tuesday.  There are normally 2 -3 volunteers per shift.
Volunteering with the Friends of the Library is a fun way to help the library meet its commitments to the Napa community.
---
COMMUNITY and NATIONAL BOOK CLUB SELECTIONS – 2019
PBS Newshour/New York Times Book Club:
Jan: "Heart: A History", Sandeep Jauhar (NF)
Feb: "The Wife," Meg Wolitzer's (Fic)
March: "The Power," Naomi Alderman (SciF)
April: "Brotopia: Breaking Up The Boys' Club Of Silicon Valley," journalist Emily Chang (NF)
May: "An Odyssey" Daniel Mendelsohn (NF)
June: "The Fifth Season" (SciF) N.K. Jemisin
July: "The House of Broken Angels" Luis Alberto Urrea (Fic)
August: "The Woman Warrior," Maxine Hong Kingston (Memoir)
NPR Science Friday Book Club:
Winter: "The Fifth Season," N.K. Jemisin (Fic)
Summer: "The Genius of Birds," Jennifer Ackerman's book (NF)
Napa Bookmine:
Jan: "Light in August," William Faulkner (Fic)
Feb: "The Underground Railroad: A Novel", Colson Whitehead (Fic)
March: "To the Lighthouse," Virginia Woolf (Fic)
April: "Born a Crime," Trevor Noah (NF)
May: "Love in the Time of Cholera," Gabriel Garcia Marquez (Fic)
June: "Fun Home: A Family Tragicomic" Alison Bechdel (Graphic novel)
July: "Einstein's Dreams" Alan Lightman (Fic)
August: "The Old Drift: A Novel" Namwali Serpell (Fic)
Napa Library:
Jan: "A Kind of Mirraculas Paradise: A True story about Schizophrenia," Sandra Allen (NF)
Feb: "Our Souls at Night," Kent Haruf (Fic)
March: "Glass Castle" Jeannette Walls (NF)
April: "Homegoing," Yaa Gyasi (Fic)
May: "The Color of Water," James McBride (memoir)
June: "The Bell Jar," Sylvia Plath (Classic)
July: "People of the Book" Geraldine Brooks (Fic)
Aug: "A Passage to India" E.M. Forster (Classic)
Sep: "Prairie Fires: the American Dreams of Laura Ingalls Wilder" (NF)
Oct: "Daughter of Time" Josephine Tey (Fic)
Nov: "The Library Book" Susan Orlean (NF)
Dec: "The Alchemist" Paulo Coelho. (Fic)
Click here to send us your favorite book list or book club reading list and we'll post it here.