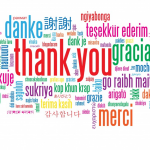 HOW MANY WAYS CAN WE SAY THANK YOU FOR ALL OF THE SUPPORT WE HAVE RECEIVED IN THIS PAST YEAR?
The pandemic affected most if not every part of our lives. The main source of the funds we raise to support and sponsor programs at the Napa Library are the quarterly book sales we hold at the library as well as the Lobby Book Sales. Because the library was closed, we were not able to hold our sales in 2020 nor could anyone shop at the Lobby Book Sale.
While we could not hold our regular sales, the book, CD and DVD donations from the public kept coming in. We think that donors had time at home and decided to let go of many of their books, music and movies. And we were the recipients of these great purges! Boxes of books and media piled everywhere. We put our thinking caps on and with the help of the Napa Library we held two "Backdoor By the Box Book Sales". Shoppers appeared at our back door and purchased boxes of books by category. It was like opening a Holiday or Birthday present – surprises inside!
Because of the continued generosity of our book and media donors, volunteers who were able to continue to process the incoming donations and buyers who continued to show up and purchase our inventory, we were able to honor some of our commitments to the Library programs that count on us to succeed and serve all of our library patrons.
---