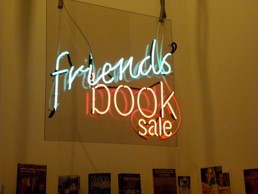 The third of our 2022 book sales is here! Once again, we have a large selection of generously donated books, CD's and DVD's for your shopping pleasure. We stock our shelves in the Community Room at the Napa County Library at the beginning of the sale and continually throughout the sale days. Just because you visited us early in the sale doesn't mean that you have seen everything we have to offer. Shop early and shop often!
The sale days and hours are:
Saturday, September 17 10a – 5p (Members' Day)
Sunday, September 18 1p – 4p
Monday, September 19 10a – 7p
Tuesday, September 20 10a – 7p
Wednesday, September 21 10a – 7p
Thursday, September 22 10a – 7p
Friday, September 23 10a – 4p (Half Price Day)
Saturday, September 24 10a – 5p (Bag Day #1: 1 bag of books = $5)
Sunday, September 25 1p – 4p (Bag Day #2: 2 bags of books = $5)
We look forward to seeing you! Your purchases directly fund many programs at the library.
---