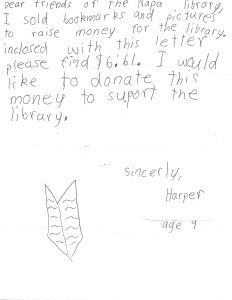 Donation
In the last quarter of 2018, we received a letter from Harper, a nine year old Napa resident and fan of the Napa Library. As noted in this letter, she sold bookmarks and pictures to raise money for the Friends of the Napa Library. She sent us $6.61 to be used to support the programs we raise funds for throughout the year. One of our goals is to encourage young readers to become life long readers. Harper's hard work and donation make us especially proud and we are honored that she chose us to benefit from her hard work!
Favorite Library Program
After the Friends of the Library Week program (click here for information) we received a note from a frequent library user.  She was excited to learn that the Art in the Library Program had been selected as the favorite program by voters.  Being the favorite program meant that Art in the Library received the proceeds from the lobby sales for the celebration week.  While the artists provide their creations at no cost to the Library, the program does incur costs associated with creating the displays, producing written materials and the artist's receptions.  We were glad that this important program was chosen to receive special recognition.  And so was our correspondent!